Mykola Bodnar

——Ukrainian Artist——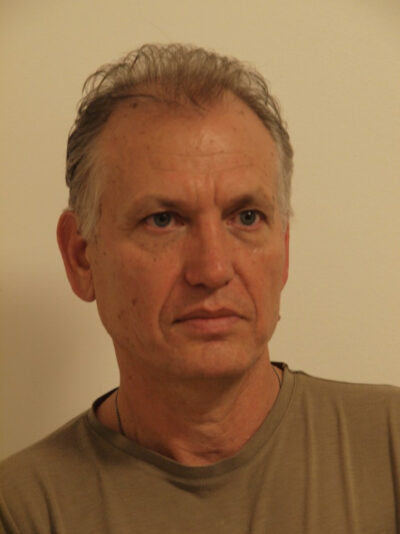 Mykola Bodnar was born on May 7th, 1956 in Subcarpathian Ukraine. He studied at the Secondary School of Applied Arts in Uzhhorod from 1971 to 1975. In 1984, he graduated from the Academy of Fine Arts in Lviv. He lived and worked in Košice for almost 20 years. In 2013, Mykola Bodnar moved to Dunajská Lužná. He exhibits his art mainly in Slovakia, the Czech Republic, and Austria. He regularly participates in international symposia and painting plein airs.
Mykola Bodnar is a painter of the architecture, urban milieu and atmosphere. He paints his various pictorial compositions full of temperament and vitality.
He paints the landscape – mountains, lakes and rivers, moody fragments of forests and trees. His floral still lives are veristic and impressive. These represent explosions, as well as gentle exhales, of colours, abundant groups of flowers, sets of individual flowers and complete systems of painterly intoxication of motifs, colours, and scents of flowers. They are all images of modern realism and depictions of visible, external reality. They contain the language of visual information and documentation of the visible. The paintings accentuate the natural light in space and time, as well as the colourful moods, carried by a sharp, fauvistic-expressive chord of hot and cold pigments, imprinted in the paintings in a solid painter's technique.
His second domain is abstract painting. It is close to the heritage of the original Informal, as well as action and gestural painting. It is the dynamic visualisation of the invisible. His compositions are full of energy and glowing colours. Sometimes, his abstractions intertwine with realistic details (figures, nudes, human faces).
Mykola Bodnar's masterful drawing and paintings perfectly capture the current atmosphere and character of the man in portraiture. The painter seeks the boundary line, the relationship and the harmony between the visual perception and the reflection of the soul, between the surface and the interior, between the empirical fact of the record of the seen reality and the expression and designation of what he perceives and experiences through the lens of his soul. This spiritual and intellectual aspect can lighten the material elements in his paintings and give them sublime lights and colours of new artistic visions. Taste, vibrant painting, and the will to paint will certainly encourage Mykola Bodnar to further paint his magical art.
AUTHOR'S AND COLLECTIVE EXHIBITIONS
2000 – GREMIUM Gallery, Bratislava, Slovak Republic
2003 – Museum of History and Art, Holešov, Czech Republic
2006 – Gallery "Farmas", Slovenská Ľupča, Slovak Republic
2009 – AURA Gallery, Žilina, Slovak Republic
2009 – Grandhotel Starý Smokovec, Slovak Republic
2011 – Grandhotel Bellevue, Starý Smokovec, Slovak Republic
2012 – House of Original Crafts, Spišské Podhradí, Slovak Republic
2013 –Gallery "K", Bratislava, Slovak Republic
2014 – CT Gallery, Bratislava, Slovak Republic
2014 – Presidential Palace, Bratislava, Slovak Republic
2014 – Gallery "Na poschodí", Bratislava, Slovak Republic
2015 – ARTisti & Co, Bratislava, Slovak Republic
2015 – Apollo Business Center, Bratislava, Slovak Republic
2016 – ARTisti & Co, Vienna, Austria
2017 – ARTisti & Co, Liberec, Czech Republic
2018 – Orchard Gallery, Ostrava, Czech Republic
2018 – Pan-European University of Law, Bratislava, Slovak Republic
2019 – Orchard Gallery, Ostrava, Czech Republic