Kanta Kishore Moharana

——Indian Sculptor——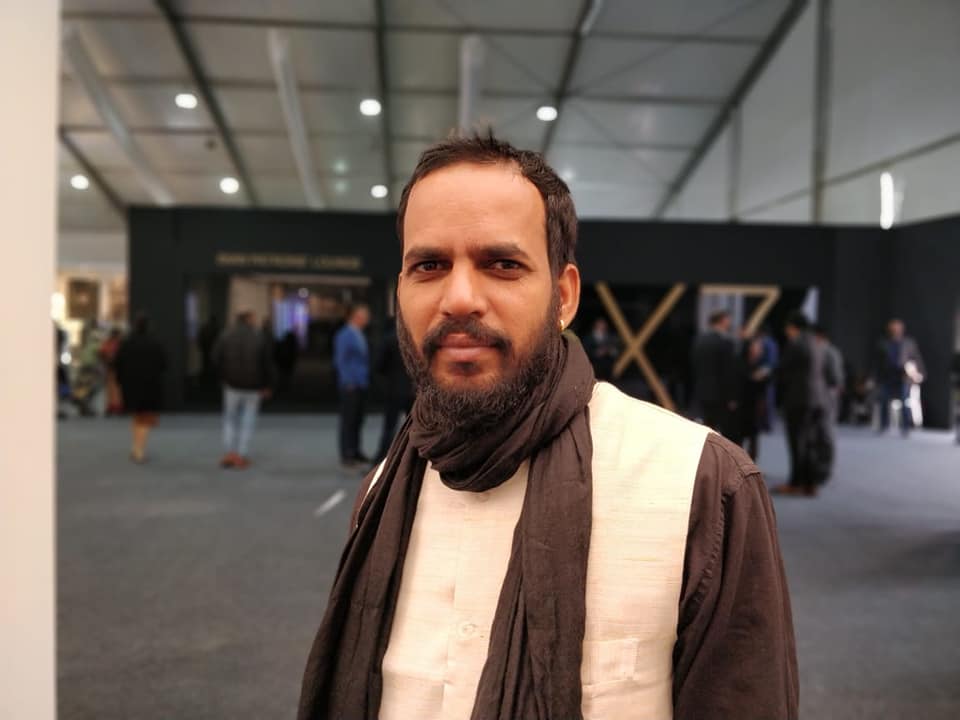 Kanta Kishore Moharana was born on June 30, 1980 in a traditional carver family near Bhubaneswar, Orissa, India. His father and elder brothers are professional artistic carpenters for their livelihood. From his childhood Kanta Kishore has played with carving tools, wood and other materials. He has played with many different mediums to create different sculptures. He has got a bachelor's degree in Fine Art from B.K. College of Art and Crafts and studied master's Degree at Govt. College of Art and Crafts Kolkata. At his time at Kolkata, he has experimented with different local mediums with his own concepts and got appreciated among all his contemporary sculptors.
Kanta Kishore is fascinated towards social issues, human daily life related problems, like urbanization and globalization. Artist realizes this society problems and difficulties, being himself an integral component of its basis, being himself a human being, not a glorifying hero.
Examples of sculptural presentations of Kanta Kishore Moharana are women violence, labor rally, child labor, starvation, unemployment, and terrorist activities in India.
If you see his conceptual works on Newspaper series, everybody just fall in love at first sight. He is genius in carving marbles – produces some wonderful pieces. He is working on books, carving white marbles and adding some metal on it. In medium marble, Kanta Kishore has started with Newspaper series and then got some installations on Labor rally, by installing carved marble chapels at Tina Ambani's Harmony Show 2007. He expressed his concern on this social issue.
Kanta Kishore has got experiences with many different materials like wood, granite, fiber and bronze. His work gives situational thoughts. One of his Newspaper series show child labor. It´s just like reminding you every day about these social issues and it will eradicate only if society will come up.
Art lovers and critics got surprised at New Delhi at India Habitat Centre, where they could have seen Kanta's work art. Everybody asked many questions about how many days it has taken and how much patience he has put into these marvelous pieces of art.
His work "Golden Chili" was the centre of attraction at Ashok Art Gallery's stall in Art Expo India 2008 Mumbai.
1999 – 2005 – S.C.Z.C.C., Nagpur, India
2000 – 2001 – Baripada State Art Exhibition, India
2000 – Indian Red Cross Society
2000 – Annual Art Exhibition, B.K. College of Art & Crafts, Bhubaneswar, India
2004 – Annual Art Exhibition, Govt. College of Art & Crafts, Kolkata, India
2004 – Oriental Art Society, Kolkata, India
2004 – Birla Academy of Fine Arts, Kolkata, India
2005 – Art Exhibition Rastriya Lalit Kala Kendra, Bhubaneswar, India
2005 – Rastriya Lalit Kala Kendra
2007 – Gallery 88, Mumbai, India
2007 – Ashok Art Gallery, New Delhi, India
2007 – International Art Exhibition, National Hispanic University, California, USA
2007 – International Art Exhibition, Ashok Art Gallery v Habitat Centre, Delhi, India
2007 – Harmony Art Exhibition, Mumbai, India
2008 – Annual Art Exhibition, Orissa Lalit Kala Academy, India
2008 – "Time and Material", Gallery Art Consult, Delhi, India
2008 – International Art Exhibition, Orissa, Modern Art Gallery, Bhubaneswar, India
2008 – Art Summit, Delhi, India
2008 – 2009 – Art Expo, Mumbai, India
2009 – 2010 – "Chitra Stutee", Utkal University of Culture, Bhubaneswar, Orissa, India
2009 – Group exhibition in BMB Art Gallery Mumbai, India
2010 – Gallery Espace, New Delhi, India
2011 – "Miniscule Marvel" at contemplate art gallery, India
2012 – ARTisti&Co, Bratislava, Slovak republic
2012 – Studio Art Gallery, New Delhi, India
2012 – BMW Art exhibition, New Delhi, India
2012 – "Together", Jaydev Bhabana, India
2012 – "Together", Rastriya Lalit kala Academy, India
2012 – National art exhibition, Gallery contemplata, Coimbatore
2013 – ARTisti&Co, Prague, Czech republic
2013 – International art festival Ostraka, Egypt
2014 – ARTisti&Co, Vienna, Austria
2014 – International sculpture symposium, Shushi, Armenia
2014 – Barbe community art project
2015 – 2016 – "Nabakalebar", Akademie Lalit Kala, India
2017-2018 – Vernissage art gallery, New Delhi, India
2018 – Orchard Gallery, Ostrava, Czech republic
2018 – International art exhibition, Minia university, Egypt
2019 – Orchard Gallery, Ostrava, Czech republic
Kanta Kishore Moharana&nbsp&nbsp4x 30x13x5cm